Would you like to have an elegant designer Christmas tree this year but don't have any idea how to get a professional look?
Here are some of the tips and tricks that interior designers use to get a magazine quality decorated Christmas tree.
Color Scheme
Decide on the overall color scheme that you would like to use for your Christmas tree decorations.
It could be all green, red & gold, red & silver, pink & white, aqua & turquoise, or any other color combination idea that you like.
The color scheme you select for your Christmas tree should compliment the color scheme of the room your tree is going into.
Consider using some of the non-traditional designer ornament color ideas available this year, such as bronze, peacock blue, plum, sage green, and navy, to give your Christmas tree an updated designer look.

Theme
Decide if you want your Christmas decorations to have a theme, such as angels, nutcrackers, snowflakes, peacock, Disney, or any other theme.
Having a theme for your Christmas tree is optional.

Christmas Tree
You can use an artificial Christmas tree or a fresh Christmas tree.
For a traditional look, select a green tree or one that is slightly flocked.
Ensure that the tree is very full for a professional designer look.
For a fresh Christmas tree, make sure to rotate it to where the best side is in the most visible location and the less attractive side is in a less visible location, such as against a wall.
Keep it watered daily so it doesn't dry out or turn brown.

For an artificial Christmas tree, make sure to adjust your Christmas tree branches vertically to ensure the branches fill all holes and don't expose the tree section joints.
Also check each needle cluster to ensure they are straightened before proceeding.

For more detailed instructions on fluffing your tree, see the article How to Fluff and Artificial Christmas Tree into the Correct Shape.
Christmas Lights
Before decorating your Christmas tree with ornaments, you should put your Christmas lights on your tree. Use either clear or white non-blinking lights for a professional designer look.
Make sure you put the lights on evenly around your Christmas tree - string them in toward the trunk then out towards the tips of each of the branches, not just around the outside.
100 mini lights per foot of tree is the minimum suggested. If you have a 6' tree, you should use at least 600 lights or 6 strands with 100 lights per strand. Even if you have a pre-lit tree, feel free to add more lights.
If you would like your Christmas tree to have a slight sparkle effect, add one or two blinking sets of clear or white lights around the trunk of the tree only. You might want to use Christmas lights with a multifunction setting to select the twinkle effect that works best on your Christmas tree.

You may also want to add one or two strands of lights that are slightly larger than the mini lights throughout your Christmas tree for added designer interest. Ensure that all of your lights are working before proceeding.

Greenery Stems
For a lush designer look for your Christmas tree, add greenery stems of different shapes and colors to your tree. You can use a stem that looks like a flocked evergreen branch, one that looks like an evergreen branch with berries, and another that is a cluster of glittered branches.
For a standard 7 to 8 foot tall tree, add 3 different types of greenery stems and 5 of each type for a total of 15 stems.
If you have an artificial tree, consider adding in a few branches of a real evergreen tree to fill in the holes, add an additional texture, and add a bit of evergreen fragrance to your room.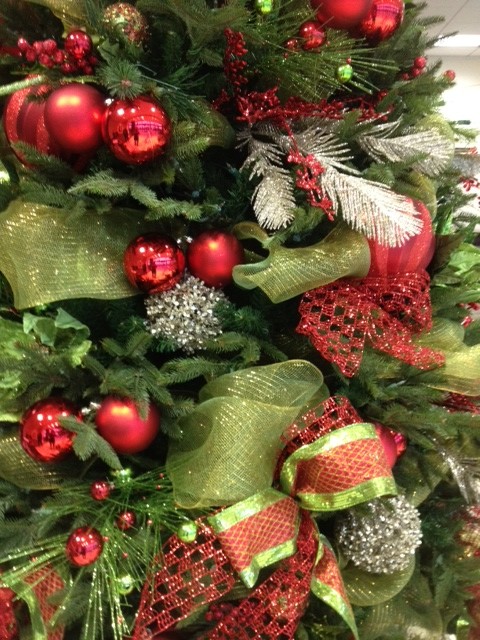 Garland
There are many designer ways to add garland or ribbon to your tree. One option is to add the garlands or ribbon running from the top to the bottom, tucking the garland or ribbon into the tree about every 2 foot. Another option is to run garlands or ribbon in a circle around the outside of the tree like a barber's pole. A third option is to run the garlands or ribbon in a circle just around the tree trunk, which works well with grapevine.
A newer popular garland material is decorative mesh, also called deco mesh, floral mesh, or poly deco mesh.
For a wider garland, consider using fabric instead of ribbon.
For more garland ideas, see the article How to Add Garland to a Christmas Tree.

Ornaments
Next, decorate the Christmas tree with ornaments in the designer color scheme you have selected. A designer trick it to use Christmas ornaments that are slightly oversized since they look much better than standard sized ornaments - this is especially important if your tree is taller than 7' tall. 10 large Christmas ornaments per foot height of tree typically works well.
Multi-pack Christmas ornaments also work great because they are usually less expensive, but purchase different styles of multi-pack ornaments (different shades of the same color, different shapes, and/or different textures) so not all the ornaments look exactly alike.
If you already have simple ornament spheres of a standard size, try placing groups of 3 ornaments together as one Christmas ornament cluster and use wire to attach the ornament clusters together.
You can also use natural elements to decorate you Christmas tree with, such as pine cones, grapevine, feathers, or twigs, or artificial natural elements such as ornaments made to look like birds or butterflies.
For another designer touch, get 5 to 7 different focal point ornaments that are oversized and will be the first thing people notice when looking at your Christmas tree. Focal point ornaments are not always Christmas ornaments, but other Christmas decor that you hang on your tree. You can use dolls, wall hangings, toys, and whatever else catches your eye.
Start by putting your generic ornaments on the tree towards the middle, then put your unique ornaments towards the outside. Larger generic ornaments should go towards the bottom and the smaller ones towards the top for a more traditional look. If you are using multiple colors, start by putting one color on the tree at a time and ensure that each color is equally distributed throughout the tree. For added glitz, consider getting a few ornament rotators to show off your most beautiful ornaments (maybe 1 for every foot height of tree).

Family Ornaments
Now it is time to decorate your Christmas tree using your family ornaments.
You can decorate using a craft your child made in school, an ornament from your last vacation, or a sentimental Christmas ornament.
Christmas trees should be filled with memories, so one idea is to purchase a new ornament each year for your Christmas tree to remind you of something special.
Your yearly ornament could be a small ornament photo frame with a photo of your children with Santa.

Floral Pick Fix
A designer trick is to add about 20 matching textural floral picks (that coordinate with your color scheme) evenly around your Christmas tree if your Christmas tree does not have the full overstuffed designer look that you want.
You can use floral picks that look like balls, tree branches, curls, or anything you like (probably not more flowers though).
This is especially helpful when you have your children help decorate the Christmas tree and they leave some holes.
Tree Topper
A tree topper finishes off the Christmas tree decorations.
The tree topper could be a traditional star, Santa, a fancy designer bow, an angel, or anything else that will top off your tree.
A current designer trend it to create a large clump of about 5-10 floral picks to be used as a tree topper.
You can use 2-3 different types of picks in your tree topper.

Gift Wrap
Another designer trick is to color coordinate your Christmas gift wrap to your Christmas tree's color scheme.
You can use multiple colors, textures, and patterns of paper and ribbon in your color scheme.
Simple brown kraft paper used as wrapping paper with a fancy bow (or even simple twine) is always a designer favorite.
You might also like the article Your Christmas Gifts are Part of Your Christmas Tree Decorations.

More Information
For more information, see the video below.